What Is Medical Marijuana? Florida MMJ Doctor
Marijuana is well known as a substance that people smoke or ingest to get high. It is extracted from the flower Cannabis sativa. Possession of weed is prohibited under federal government law. Medical marijuana relates to making use of marijuana to relieve specific health-related conditions. Throughout the USA, more than one half of the states have legitimatized marijuana for medicinal use.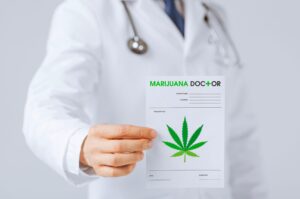 Our medical clinic, Medical Cannabis Clinics of Florida (MCCFL) is recognized as Florida's top medical card doctor.
How Does Marijuana Get You High?
Marijuana leaves and buds are composed of substances called cannabinoids. THC is a cannabinoid that can have an effect on the brain and alter your emotional state or awareness.
Several varieties of marijuana have different amounts of cannabinoids. This generally makes the impacts of medical marijuana hard to forecast or control. The benefits also may differ depending upon whether it is smoked or ingested.
What Medical Conditions Can It Help?
Medical marijuana can have a positive impact on several health conditions such as the ones listed here.  Typically, we see patients that are facing health issues that medical marijuana use can help to:
Decrease Body Pain:  Medical marijuana can be used to treat chronic pain, including nerve damage pain.
Nausea and vomiting:  Medical marijuana is often used for nausea and vomiting caused by chemotherapy for cancer.
Encourage eating or lifestyle change: Medical marijuana can increase hunger for people troubling to eat due to an illness.
In addition to this, it's common for our doctors to prescribe medical marijuana for these health conditions:
Inflammatory bowel disease
Medical Marijuana Laws In Florida
Florida medical cannabis laws have been in effect since the legalization of medical marijuana on November 8, 2016. Florida's Medical Marijuana Legalization Initiative effectively enables qualified patients who are diagnosed with debilitating medical conditions to use medical cannabis for medical purposes, upon the recommendation of a certified and licensed Florida physician. The debilitating medical conditions covered by the initiative include ALS (amyotrophic lateral sclerosis), chronic pain, cancer, epilepsy, Crohn's disease, glaucoma, multiple sclerosis, HIV/AIDS, PTSD (post-traumatic stress disorder), Parkinson's disease, and terminal illnesses or conditions o the same severity according to a physician's determination medical use of marijuana would be beneficial to the patient.
More Basic Information
To find more information on medical marijuana, visit our website page.