The Role of Medical Marijuana in Pain Management in Florida
Pain Management in Florida: The Role of Medical Marijuana
Living with chronic pain can be a difficult, exhausting, and often debilitating experience. For those living in Florida, medical marijuana is an increasingly popular option for managing pain. If you're considering using medical marijuana for pain management in Florida, it's important to understand the legalities, potential benefits, and potential risks. Here at Medical Cannabis Clinics of Florida's medical marijuana doctor office, we want to help you make an informed decision about this treatment option.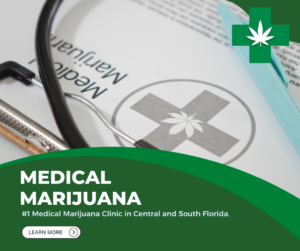 Florida Medical Marijuana Basics
Is Medical Marijuana Legal in Florida?
Medical marijuana is legal in Florida under the Compassionate Use Act. This law was passed in 2016, making it legal for patients with certain medical conditions to obtain and use medical marijuana with the recommendation of a doctor. The list of qualifying conditions includes cancer, HIV/AIDS, glaucoma, epilepsy, Parkinson's disease, post-traumatic stress disorder, and chronic non-malignant pain.
How Does Medical Marijuana Help with Pain Management?
Medical marijuana works by interacting with the body's endocannabinoid system, which is responsible for regulating pain, mood, and other bodily functions. Cannabinoids such as THC and CBD have been shown to reduce inflammation and provide pain relief, as well as providing an overall sense of well-being.
What Are the Benefits of Medical Marijuana for Pain Management?
Medical marijuana has a wide range of potential benefits for those suffering from chronic pain. It can provide relief from pain and inflammation, as well as providing more energy, increased appetite, improved sleep, and a better overall quality of life. It can also work as an effective substitute for prescription painkillers, which often come with unpleasant side effects.
What Are the Risks of Medical Marijuana for Pain Management?
As with any treatment option, there are some potential risks associated with medical marijuana. The most common side effects include dry mouth, dizziness, and fatigue. It is also important to note that medical marijuana can interact with other medications, so it is important to discuss any potential interactions with your doctor. Additionally, it is important to be mindful of the potential legal risks associated with using medical marijuana.
How Do I Get Started with Medical Marijuana for Pain Management in Florida?
If you are interested in using medical marijuana for pain management in Florida, the first step is to consult with a medical marijuana doctor. At our offices located in Kissimmee and Delray Beach, we can help you determine if you are eligible for medical marijuana treatment and provide you with the information and resources you need to make an informed decision. Contact us today to learn more about how medical marijuana can help you manage your pain.
Contact Medical Cannabis Clinics of Florida (MCCFL)
Medical advances have come a long way in the last 100 years, yet there are still many patients who suffer immensely. Fortunately, medical marijuana doctors in Florida are now available to help those who are suffering. At Medical Cannabis Clinics of Florida (MCCFL), patients can meet with a licensed medical marijuana doctor to discuss their medical condition and find out if medical marijuana may be an effective form of treatment.
The MCCFL team is comprised of certified and experienced physicians who are dedicated to providing the highest quality of care and compassionate service to their patients. The doctors at MCCFL are well-versed in the medical marijuana industry and have a wealth of knowledge regarding the laws and regulations governing the use and distribution of medical marijuana in Florida. Additionally, the team is committed to safety and personalized care, making them the perfect choice for medical marijuana doctor services in Florida.
If you or a loved one is looking for relief from medical conditions, the medical marijuana doctors at MCCFL are here to help. Visit one of their locations in Delray Beach, Boynton Beach, North Palm Beach Kissimmee and Orlando/ St. Cloud to find out if medical marijuana is right for you!